Interesting fire burning just northeast of Roscommon, MI (yes, as in the Roscommon Equipment Center that does a lot of forest fire R&D!)
It's burning in a white pine, red pine, and jack pine area of Huron National Forest and adjacent areas. Wildland Fire Today has some good posts here, here, here, here, and here.
That may not be quite typical of southern New England in how large of areas are pine dominated, although it looks a lot more like southern Maine. But it's burning in moderate winds and low humidity (14%) that is very common in New England, as well as flat terrain. These are conditions much more like New England then you see in fires out west.
Note the spotting that looks perhaps a mile ahead of the main fire line.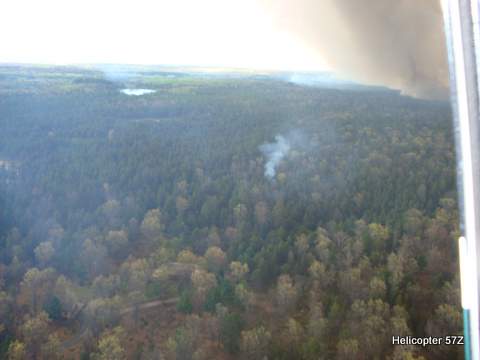 This is a good presentation on spotting, archived here.
"Close In" spotting is stuff that might go a few feet — say cross a 4′ to 6′ control line. If it's only an occasional spot easily policed by a firefighter with a handtool or indian can, not a problem. If it's prolific, you need a change in strategy and tactics.
Prolific is one of the big warning signs. Think the ember storms you see in some videos engulfing houses, since they can light an overwhelming number of fires.
Short range: Beyond "close in"; say tens of feet up to 600′
Medium range: 600′ to a mile.
Long range: > 1 mile
This picture shows spotting across a good 40′ of gravel and pavement…clearly this fire was going to require big burnouts from control lines well in advance of the fire to attack it at this time of day. I believe that's Jack Pine. Jack Pine can be "scrubby" in poor soil, but it can also grow tall and straight. It is closely related too (and can hybridize with) Lodgepole Pine.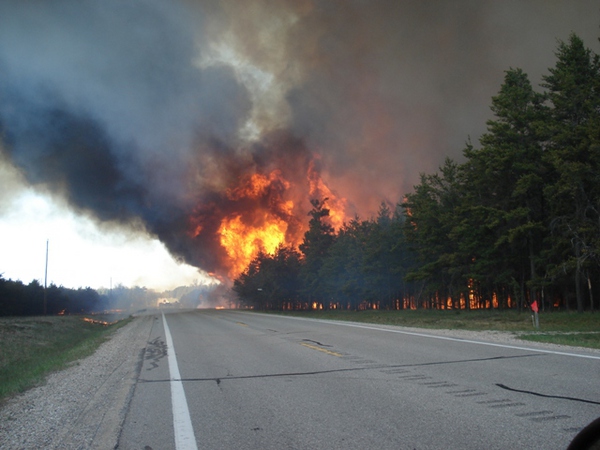 It sounds like most progress was made after night fall when they could make good progress on building fire lines as the fire left the crown and came to ground. Makes you think of the need for fairly long range planning, trying to use air resources and initial attack to protect structures and control spot fires during the day while pre-positioning resources like dozers and burn out crews to launch an all out assault once the conditions turn more favorable in the cooler, moister, and usually calmer evening.
The northeast wind on Tuesday, 5/18 that drove it turned to a northwest wind on Wednesday, 5/19. I'd imagine the focus of efforts was to make sure that southern / eastern flank was well secured, as well as being concerned if there were any unknown spot fires that could be driven by the new winds.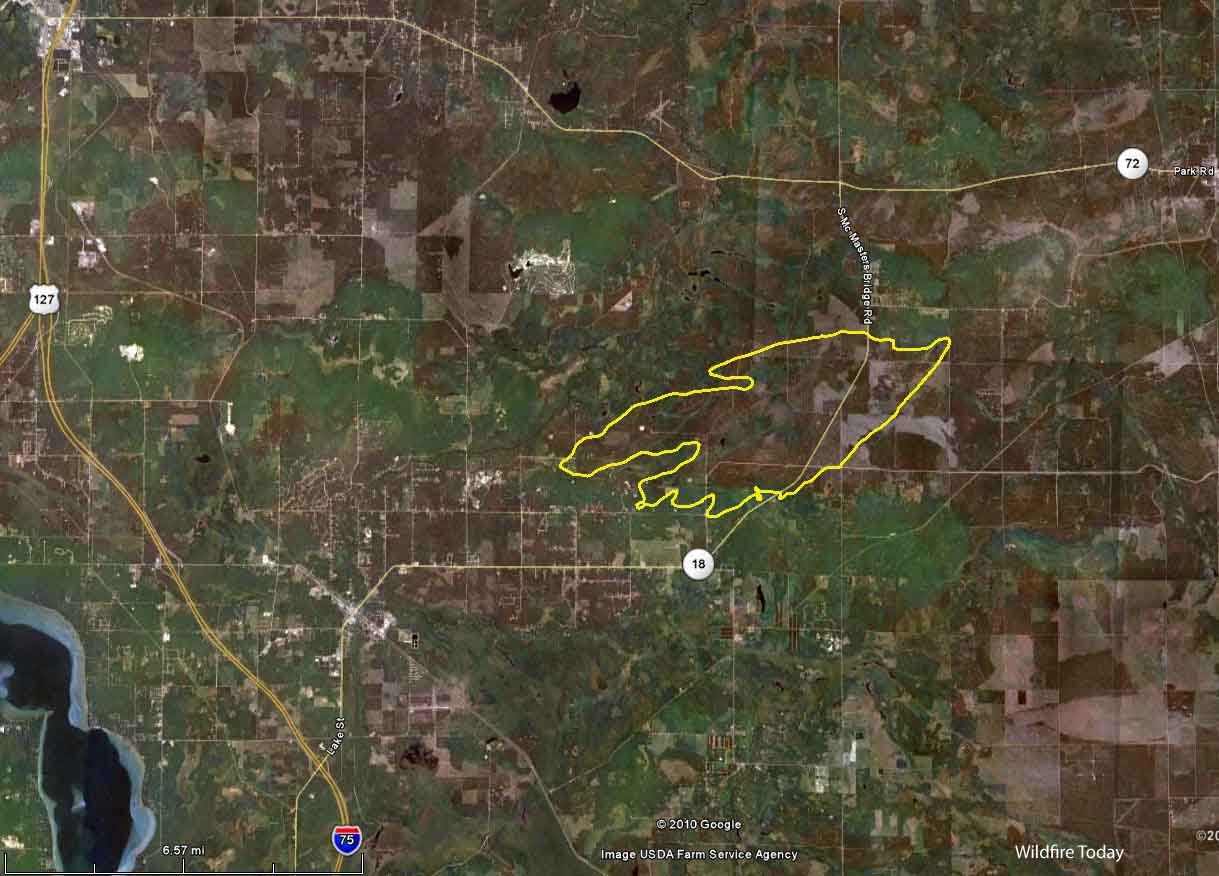 The forest types of Huron National Forest: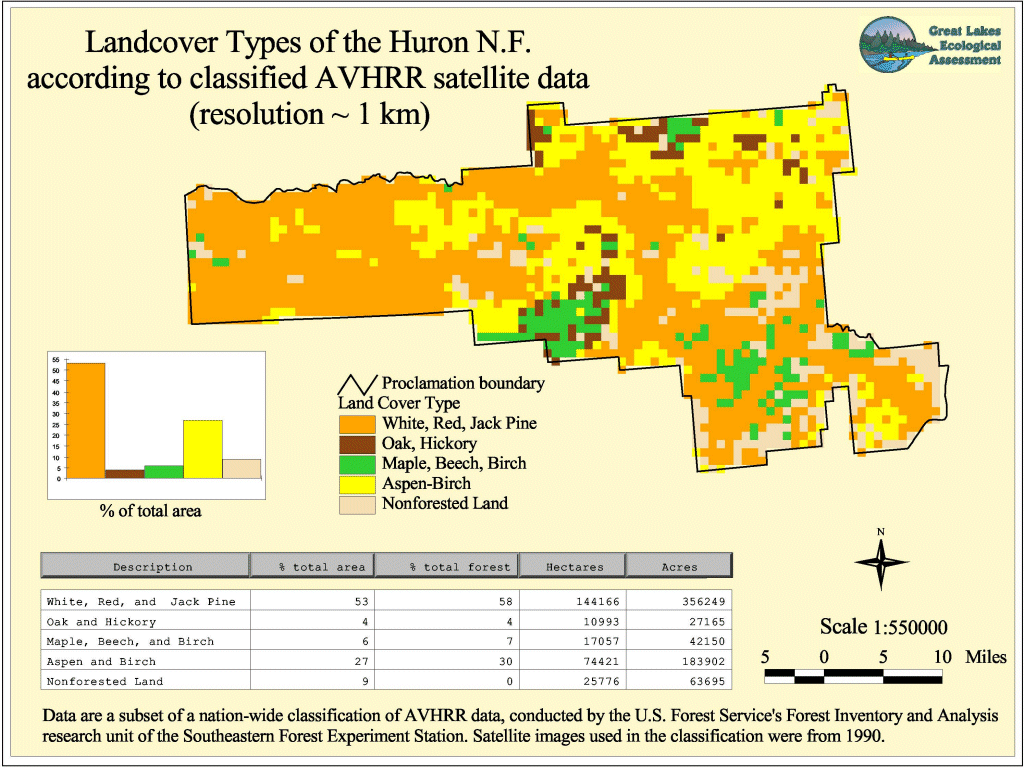 As a followup, I was the area and found the 1980 Mack Lake Fire which is documented here. It started 8 miles almost due east of this fire.
Lots of good stuff in that report. The Mack Lake fire ranks in the top for forest fire spread and BTU release rate recorded in North America. It averaged 2mph, hit 7mph peak. 27,000 BTUs/foot/second were estimated, with a theoretical maximum (for all forests) being 30,000.
It was a prescribed burn that got out of control, resulting in a LODD (Dozer Operator), 44 structures, and 20,000 acres lost in the first six hours, then it was essentially out except for mop-up.
Perhaps most interesting: This area of Michigan, per tree ring research, experiences a 10,000 acre fire an average of every 28 years.
They seem to follow a basic pattern — the weather isn't remarkably bad (moderately warm day, moderately low humidity, moderate winds) but once they get going they run like a bat out of hell until it's either early evening or they run out of jack pine and into hardwoods. Then the fire goes to ground and is easily contained overnight.
The last major fire before this one was Mack Lake, so it this was pretty much right on schedule.